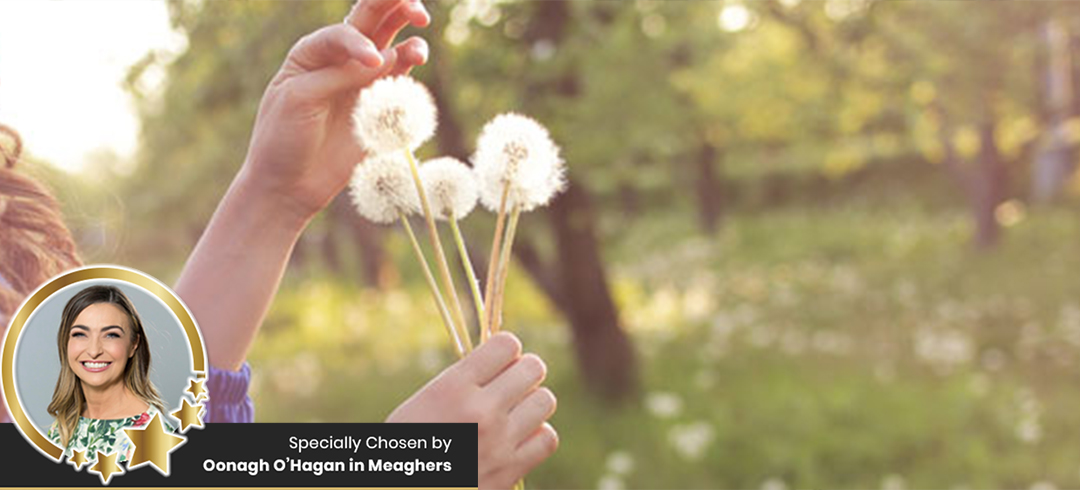 *Sponsored Partnership with Meaghers
Written by Oonagh O'Hagan of Meaghers
We are well and truly seeing the signs of spring in the air, brighter evenings, warmer weather and even the occasional appearance of the sun in the sky! After the challenges of the last year Spring is a welcome release from the cold and dark winter days. However, if you suffer from allergies you may not be as pleased to see the change in season.
'As pharmacists we are well versed in how allergies can affect different people in different ways and how severely affected some of our patients can be' 
So, we have compiled our top tips to help you spring into the new season and manage allergies and their effects this spring time.
1. If your airways are affected by allergies, Salt therapy is an excellent solution to try. Many people suffer from a constant runny nose, sneezes, itchy teary eyes, and recurrent cough, it can also really affect your sleep. Salt therapy and the Salin Plus device is a natural therapy that many of our customers swear by. The salt particles break up the mucus plugs in your airways and sinuses, allowing more space for air to flow through. In addition, this results in less sleep disturbance as air tends to flow freely during sleep. It releases discomfort and flushes out the triggers for allergies
2. If you are allergic to pollen and suffer from hay fever make sure you sleep with the windows closed and avoid drying clothes outside on a clothesline. Pollen spores are transferred in the air and can stick to clothing so wash your face and change your clothes when you come home from any extended period outside.
4. Very often sensitive areas such as our eyes can become very irritated in allergy season, it is important to soothe and protect the eye area if you suffer from allergies. If you suffer from irritation around the eyes, itching or dryness the Bioderma Atoderm 3 in 1 eye is an incredible product to try. It Immediately and durably soothes sensations of itching, reduces skin dryness and redness, Moisturises and nourishes the skin and even removes makeup, pollution particles and impurities.
5. If you suffer from irritation and inflammation on any areas of the face it is important to include an SPF in your routine, it will protect from the very harmful UV rays that will further irritate the skin. Keep your skincare very simple, choose a gentle cleanser and a soothing day treatment like the Toleraine Ultra Cream from La Roche Posay. The ingredients neurosensine, glycerin, shea butter and La Roche-Posay's Thermal Spring Water will instantly soothe and moisturise irritated skin.
6. If you have an inflammatory skin condition, are wearing a face covering or for those shaving the face a hydrating, moisturising and soothing mist is really useful to use throughout the day to boost the skins comfort and moisture levels. Toleriane Ultra 8 Mist contains glycerin, Allantoin and La Roche-Posay Thermal spring water so it hydrates on application and soothes skin instantly.
Allergies should not hold you back from enjoying the optimistic spring season, if you suffer from allergies and you want advice on medicines contact one of our pharmacists at Meaghers on our helpline or via our video pharmacist.
Happy Springtime!
We are here to help!
So however your body has responded throughout these incredibly stressful few weeks and months there are certainly products that can support your body at this time. If you are feeling the impacts of this pandemic on your sleep, your anxiety or energy  levels or if you are noticing the effects on your skin or hair myself and my team of pharmacists are here to help you through these challenging times and all you need to do is to reach out and ask for the help that you might need.
Contact us on our helpline by phone or email. 
Oonagh x
Oonagh O'Hagan
Paid Partnership with Meaghers. 
DISCOUNT CODE:
Don't forget, as I am the Brand Ambassador for Meaghers, I have an exclusive Discount Code! Click the link below to get the Code and to see all my favourites from Meaghers.