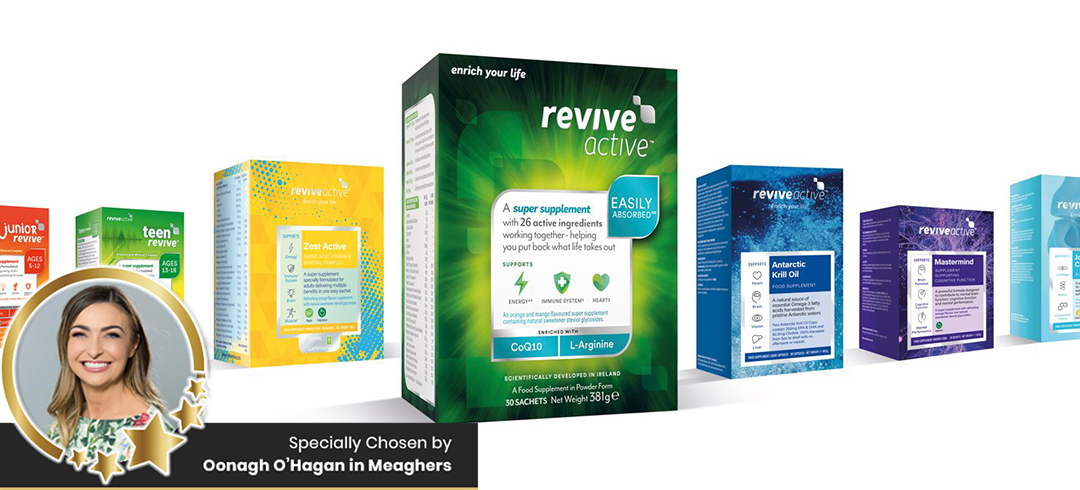 *Sponsored Partnership with Meaghers
Written by Oonagh O'Hagan of Meaghers
As a country Ireland really has it all, rich natural resources and some of the brightest minds in the world. It is no surprise therefore that we produce incredible Irish products that are exported all over the world and are loved by millions. Here in Meaghers we are delighted to support and stock some of the amazing Irish supplement companies doing just that. Here are some of our top products from these brands.
We are huge fans of the Revive Active range here in Meaghers. The brand was founded by Daithí O'Connor in 2011, now with a team of doctors, scientists, production specialists and expert nutritionists they have grown from a brand with one product and 4 team members to a business exporting throughout the world to over 48 different countries. A real example of an amazing Irish business with an amazing product backed by science!
Meno Active
The newest addition to the Revive product range is Meno Active, a super supplement formulated through in-depth research by specialists in various fields of nutrition and science, for women during and after menopause. Unlike the other products from the range, it is a dual action product where you take one capsule and one sachet daily.
This powerful combination helps support:
 Hormonal Activity
 The Nervous system
 Energy
 Brain function
Each capsule contains 3 plant extracts:
Ashwagandha, Sage and Green Tea.
Each sachet contains 27 active ingredients including Vitamin B6 which contributes to the regulation of hormonal activity, Omega 3 DHA which contributes to the maintenance of normal brain function, Biotin, Magnesium, Thiamine and Iodine which contribute to the normal functioning of the nervous system and finally Niacin and Vitamin C which contribute to normal energy-yielding metabolism.
Each sachet of Meno Active contains 350mg of Omega 3 DHA. Docosahexaenoic Acid (DHA) is a structural component of every cell of the body. It contributes to the maintenance of normal brain function. It is an essential fatty acid which cannot be made by the body efficiently and must be taken into the body through a varied diet or supplementation.
Meno Active can be taken alongside Revive Active's range of multivitamins Revive Active and Revive Active Zest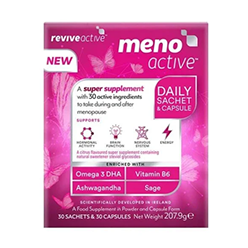 Revive Active Health Food Supplement
The original product from this Irish company is the Revive Active Food Supplement, it is a comprehensive multi-vitamin/multi-mineral suitable from age 18 upwards. What makes this product so great for boosting energy is the 150mg of Co-enzyme Q10, which is found naturally in your cells and helps your body create energy.
Unfortunately, from our mid 20s onwards, the levels of Co Q10 in our body starts to decrease, which is why we may not feel as energetic as we once did! This product boosts your Co-enzyme Q10 reserves which can really boost your energy.
It is also an excellent support for our heart health as it contains the amino acids L-arginine & L-citrulline which help to open the blood vessels. These amino acids are particularly important to look after our cardiovascular health from mid-30's onwards.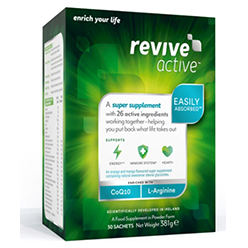 Active Iron
Another super impressive Irish success story in the area of supplements is the Active Iron brand. The team at Active Iron have worked alongside a team of Scientists at Trinity College Dublin to develop a ground-breaking new method of delivering iron. This method improves absorption and
reduces negative gastro-intestinal side effects.
This patented technology uses a unique whey protein complex to ensure iron is released in the small intestine where it is more readily absorbed. If iron is released in the stomach, it can cause oxidative stress which can result in gut irritation and constipation.
The brand has developed a wide range of supplements containing this Iron formulation and have teamed it with various other active ingredients to be of even more benefit like B Vitamins for men or omega 3 and folic acid for pregnant women. A super impressive brand that is homegrown.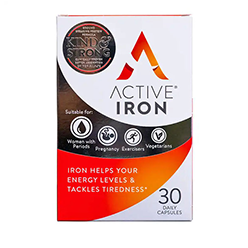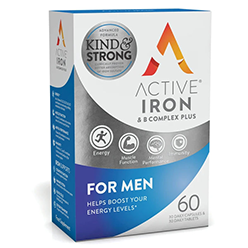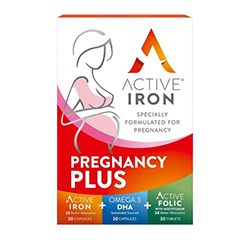 Cleanmarine
Naturalife is based in Rathnew, County Wicklow and with 20 years trading experience, Joint Managing Directors Darragh Hammond and Dominic Galvin's love and passion for premium health products is central to Naturalife's ongoing success and growth.
Cleanmarine is one of the very best products of its type on the market. Cleanmarine For Women is a unique all-in-one Omega 3, Phytonutrient and Vitamin blend designed specifically to offer nutritional support to women from 15 – 40 years.
Each Cleanmarine For Women capsule is packed with Omega-3 with Phospholipids, Vitamins B1, B2, B6 and D3, as well as Rosemary Extract and Soy Isoflavones. With Vitamin B6 helping to regulate hormonal activity, supporting energy production and reducing tiredness and fatigue and Vitamin B2 to help maintain normal skin. This synergistic formula is ideal for women who want to feel and look good every day.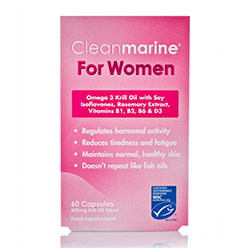 Cleanmarine Menomin 
Also in their portfolio is Cleanmarine Menomin, the supplement created for women who are experiencing peri-menopause and menopause symptoms. A favourite of ours here in Meaghers, this is a unique all-in-one Omega 3, Phytonutrient and Vitamin blend, Cleanmarine MenoMin has been formulated specifically to give extra nutritional support for peri-menopausal and menopausal
women.
Cleanmarine MenoMin is rich in Omega-3 with Phospholipids, Vitamins B1, B2, B6, B12 and D3, as well as Rosemary Extract, Soy Isoflavones, Folate and Biotin. With Vitamin B6 to help regulate hormonal activity, biotin to help maintain normal mucous membranes, as well as Vitamin B2 to reduce tiredness and fatigue and Vitamin D to help maintain healthy normal bones.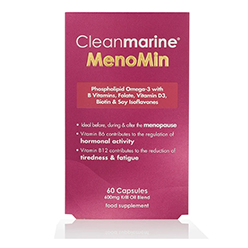 Cholestero-Low Cholesterol Health Supplement
Dr Cliona Murphy from Macroom Co Cork, the daughter of the local pharmacist grew up listening to he issues that brought her fathers patients to his pharmacy, then during her own time working as a doctor she identified the need for a new and innovative product to help patients lower their cholesterol naturally. And so Cholestero-low was born!
A relatively new to the market supplement our pharmacists are so excited about this product and the difference it can make to our patients lives. Cholestero-Low is a heart and gut supplement. The main ingredient is Oat beta-glucan. Oat beta-glucan is approved by the European Food Safety Authority as a cholesterol lowering supplement. This soluble fibre can reduce your total cholesterol and your LDL (bad cholesterol).
Co-Enzyme Q10 (CoQ10) is involved in energy production and is added for heart health. CoQ10 is a vitamin like substance that we make in our bodies, however our levels decrease with age. Inulin is a specialised type of fibre that is a prebiotic that is good for the bacteria in our bowel and helps the Oat beta-glucan lower cholesterol. A fantastic all-round heart and gut supplement that is Irish born and super innovative.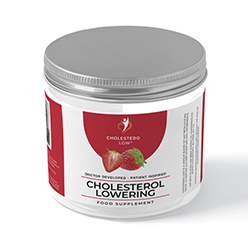 We are here to help!
You can contact us at Meaghers for more information on these products or advice on your health and wellbeing
www.meagherspharmacy.ie
Oonagh O'Hagan
Paid Partnership with Meaghers. 
DISCOUNT CODE:
Don't forget, as I am the Brand Ambassador for Meaghers, I have an exclusive Discount Code! Click the link below to get the Code and to see all my favourites from Meaghers.