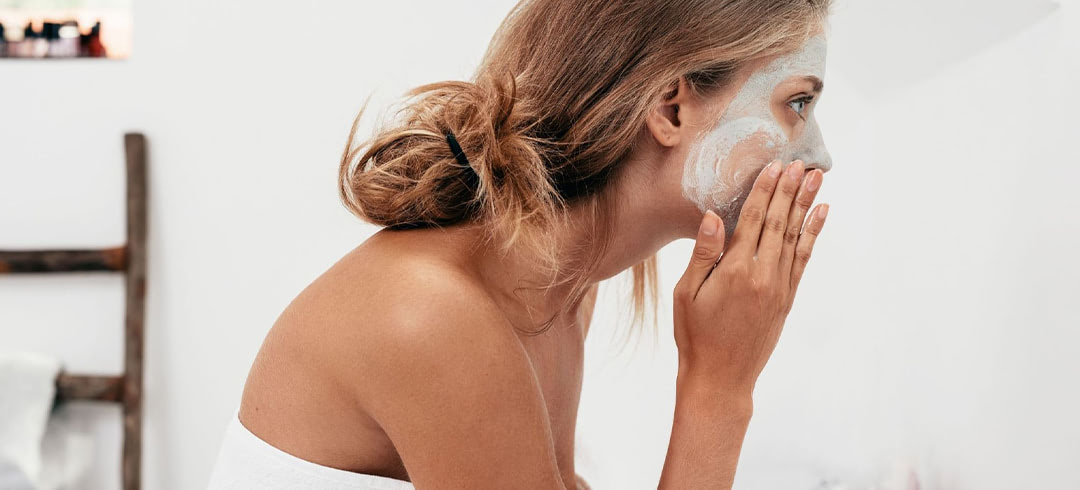 Post Lockdown Skin Stress Solutions
*Sponsored Partnership with Meaghers
Written by Joanne O'Hagan of Meagher's Pharmacy
As a country we are slowly returning to our normal way of life, with businesses reopening, the vaccine roll out in full swing and even talk of a staycation in the summer there is a lot to celebrate.
'But post pandemic anxiety is a very real thing, if you feel overwhelmed by plans to meet friends, attend appointments or return to work you are not alone.'
Covid 19 has taken a lot from us all, jobs, housing, missed milestones and of course grieving the loss of loved ones. Even those of us who have been very lucky have had our sense of safety infiltrated by the risk of the virus and have faced never seen before challenges over the last year.
It is important to show ourselves the empathy and patience we would show a close friend at this time and don't feel pressured to do everything all at once. Many of us have experienced a stress response in our bodies during the pandemic. Being in a constant state of apprehension can manifest in numerous ways in the body like gastrointestinal symptoms or increased anxiety. A lot of nerve endings are connected to the skin, so as emotions are played out neurologically, they can also be expressed through the skin.
Many people have experienced breakouts, the worsening of acne and other inflammatory skin conditions. When you are tense, your body releases stress hormones including cortisol, which may increase the skins oil production, making you prone to breakouts.
Although stress does not cause acne directly but it can make it worse, it can prolong a breakout and make the skin harder to heal. If you're under a lot of stress, using relaxation techniques may help speed up the healing of your acne as will a solid skincare routine to tackle the overproduction of oil and clear the pores of blockages. Here are some of my top products to treat breakouts and flareups of acne.
Acnaut 3 Step Kit
Acnaut 3 Step Kit is an all-in-one solution for those suffering from mild and moderate to severe acne pustules on the face, back and neck. Suitable for oily skin which is prone to frequent bacterial infections and breakouts. Acnaut Active Lotion 60ml for oily and blemish prone skin to be used as an on-the-spot treatment or as a toner on affected areas. The Acnaut Soap with lactic and salicylic acid will gently wash and clear the pores of oily and blemish-prone skin and the Acnaut Hydro Active Cream is an ideal moisturiser for daily hydrating care without clogging pores.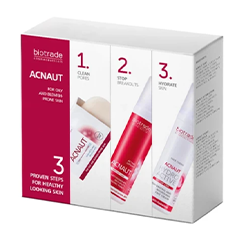 Trilogy Clarifying Cleansing Gel 200ml
For those suffering from breakouts a solid cleansing routine will help combat the severity and occurrence of blemishes. The trilogy clarifying gel is an excellent option for those suffering with flaking or dehydration along with the breakouts. Thanks to Grape Seed, Jojoba and Rosehip Oils, you'll benefit from a rich concentration of omegas to thoroughly nourish. However, the pores will be cleared effectively and skin tone improved with a mild astringent, Witch Hazel and Salicylic Acid, which is derived from Willow Bark, helps to resurface and exfoliate to improve texture.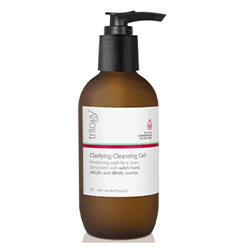 La Roche-Posay Serozinc Face Toner Mist
Specifically formulated for oily, blemish-prone skin. A soothing and purifying toning mist with
immediate anti-shine and pore tightening benefits. Use after cleansing and throughout the day to mattify skin and keep it feeling fresh. Skin feels clean all day even when wearing a face covering, simply spray onto skin prior to wearing the face covering.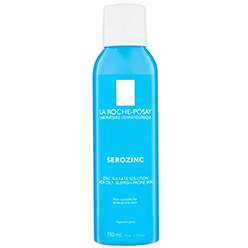 Acnaut Active Lotion 60ml
Acnaut active lotion is my go-to treatment for those suffering from painful, pus filled spots on the face or body. It is also an excellent product to treat and prevent blackheads. A dual-purpose product it can also be used on ingrown hairs and as a toner for oily skin types. As a treatment toner use twice a day, apply the lotion with a cotton pad on cleansed skin all over the face, avoiding eye contour area. In case of single breakouts apply the lotion 2-3 times a day only on the affected spots.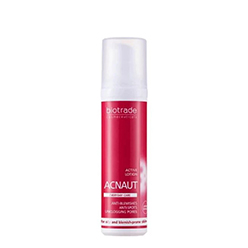 Trilogy Rosehip Oil Light Blend 30ml
For those of us suffering from the effects of wearing face coverings the skin may feel tender,
irritated and inflamed. It may appear dry while also having breakouts of blemishes. A light facial oil can really help with bringing the skin back to full health. The Trilogy light blend rosehip oil is easily absorbed it is light on feel, yet deeply nourishing. Essential fatty acids from rosehip and cranberry moisturise and repair skin, jojoba helps to clarify and soften and grapeseed, regulates the skin's own oil production. While Antioxidant lycopene from tomato provides protection against free radical damage.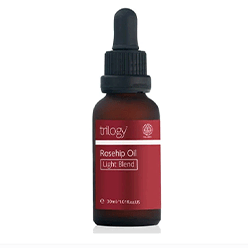 Oonagh O'Hagan
Paid Partnership with Meaghers. 
DISCOUNT CODE:
Don't forget, as I am the Brand Ambassador for Meaghers, I have an exclusive Discount Code for Meaghers. Click the link below to get the Code and to see all my favourites from Meaghers.