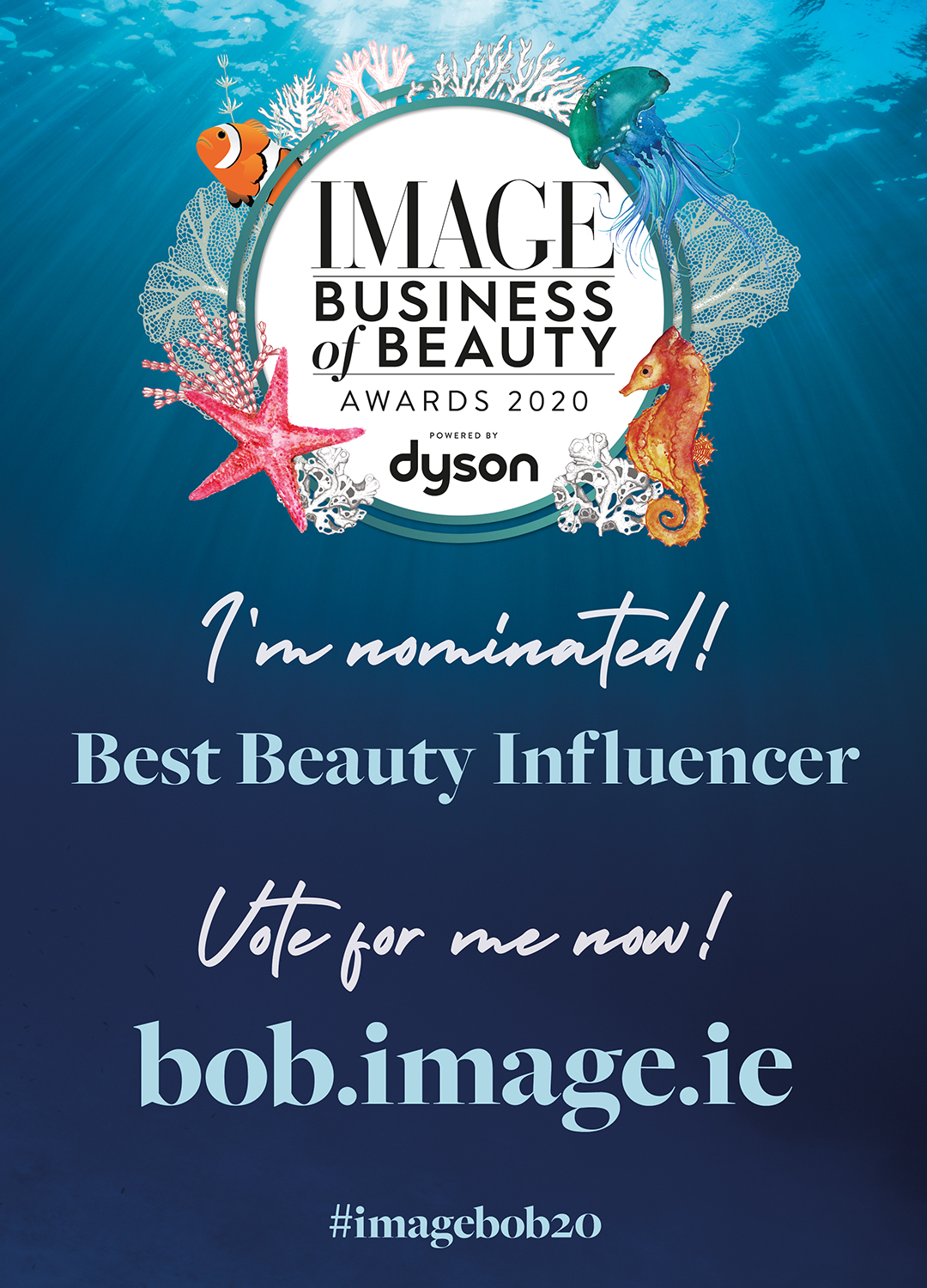 I was recently notified that I made the Shortlist for Best Beauty Influencer in the IMAGE Business of Beauty Awards 2020!! As they said themselves on their website, 'these are Ireland's biggest, glittery-est, most stylish, adrenaline-charged awards, honouring the very best in Irish hair and beauty'… and I'm in the running! Can you believe it?
'Beauty doesn't rinse off…'
Having a role as a Beauty Influencer to me is so much more than showing you the latest make-up. To me, it's all over beauty – on the inside and the outside. Of course it goes without saying that we all love make-up, creams, tan, clothes and all that good stuff… but that truly only looks good if you look after your mind, body and soul first…
Beauty to me is doing what you can to supplement what you are lacking – whether it's taking vitamins; looking after your skin, hair and nails; drinking water; exercising more; finding ways to sleep better or even simply lighting a candle and relaxing. It's about being kind and doing your best. It's about being there for people when they need you… What happens on the inside shows on the outside. Beauty doesn't rinse off xx
WHAT IMAGE HAVE TO SAY ABOUT THE AWARDS
"We are excited to announce this year's much-anticipated shortlist… the experts who we firmly believe can turn us from fine to fabulous… The heroes who make our eyes sparkle, our bodies glow, our skin shine and our brows arch…
Over the next few weeks, you have the opportunity to vote for your favourites from our amazing shortlist, covering 18 categories, from the best in make-up and hair to the most skilled beauty technicians, artists, entrepreneurs and salons. So get involved and get voting for your 2020 Business of Beauty winners!
Get voting now before votes close on Friday, March 6 2020."
It's really such an honour to have been Shortlisted and it's definitely thanks to all of my followers continuing to tune in to my channels to see what I'm up to and recommending. I really take pride in what I do and I'm constantly trying to improve what I offer to my followers… As you know, I even built this website recently so that it would be easier for you all to get my latest Tips & Tricks, and of course my Discount Codes (which you all seem to love as you keep selling them out of their stock lol).
At 47 years of age, it would be such a huge honour to me if I won this Award as it is a prestigious and recognised award in the Beauty Industry. If you can spare 2 minutes (and only if you think I'm deserving of the Best Beauty Influencer title), I would really appreciate and love if you would vote for me:
TO VOTE:
Tap here to vote (voting closes on Friday, 6th March 2020.)
There are 18 categories, so scroll down to where it says 'Best Beauty Influencer'… and if you like what I do, please select Lisa McGowan, @lisas_lust_list (see screenshot below).
You can cast one vote per day.