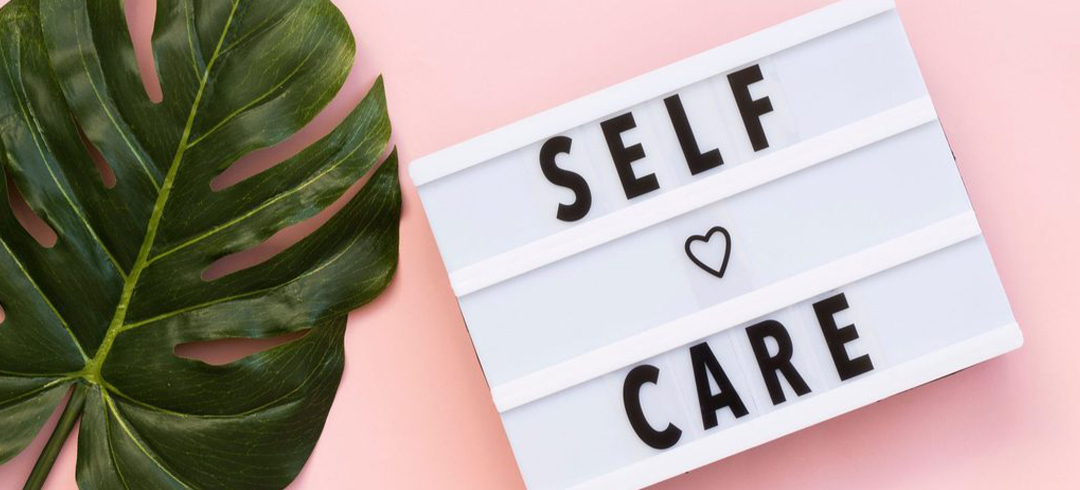 Winter Self Care from Meaghers
*Sponsored Partnership with Meaghers
Written by Joanne O'Hagan of Meagher's Pharmacy
As the darker evenings and mornings set in and there is a definite chill in the air looking after our physical and mental wellbeing has never been more important. Self-care is not selfish, its so important to take care of ourselves so that we can take care of those around us and be the very best versions of ourselves.
We have put together some of Lisa's top self-care items to ease you into winter available now at Meaghers
Soothe the Skin
Vichy Mineral 89 Hyaluronic Acid Booster
Vichy Mineral 89 Serum is the skin strengthening wonder product that not only hydrates the skin but also builds up the skin's defences. It acts as a protective shield against pollution and is a lovely light gel like texture that will immediately soothe and moisturise the skin.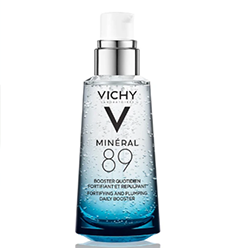 Vichy Mineral 89 Fortifying Instant Recovery Sheet Mask
Mineral 89 Mask is the perfect self-care hero, giving the skin an instant shot of moisture and hydration. This super sheet mask will repair the skin barrier and add instant hydration that lasts up to 24 hours. Use as an instant recovery solution for your skin when it feels stressed, tired or dehydrated or you just need a little bit of Me time!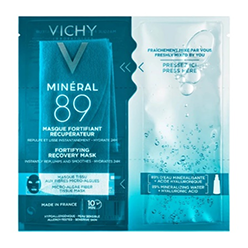 Vichy Mineral 89 Eyes – Hyaluronic Acid Eye 15ml
Mineral 89 Eyes is a brightening and hydrating wonder product for tired eyes, this light weight eye cream lightens the appearance of dark circles and because of the addition of caffeine eye bags appear less visible. It will also smooth and hydrate the eye area and strengthen the eyelashes!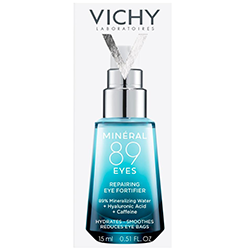 Cleanse the day away
Pestle & Mortar Erase & Renew Double Cleansing Set
Wash the day away thoroughly and pamper yourself while you do so with the Pestle and Mortar Erase and Renew Cleansing duo this beauty is presented in a chic & stylish seasonally themed cylinder, Erase & Renew – The Double Cleansing System is perfect for anyone serious about skincare or a gift for someone who is. Containing a meltingly soft balm cleanser to remove all traces of make- up and SPF, an illuminating gel cleanser to treat and polish the skin, and a 100% cotton face cloth designed to ensure that every last trace of dirt and grime is gently removed to leave skin thoroughly cleansed and hydrated.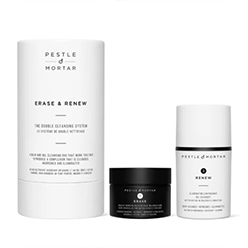 Trilogy Botanical Body Wash
Trilogy Botanical Body Wash is the ultimate in spa care at home! If you want to gently calm the senses after a long day and soothe your skin this luxury bath and shower gel is perfect for you. The non-drying gel formula contains Trilogy's rosehip oil that will soothe and hydrate the skin while transporting you to a spa through the senses. This is gentle enough for the whole family to enjoy and comes in a large pump bottle that will look great in the bathroom!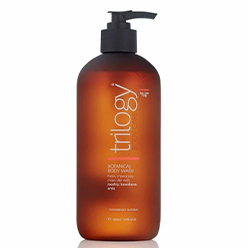 The Handmade Soap Company Hand Cream Set
Keep your hands soft and supple with the Handmade Soap Company Hand cream set this beautiful trio contains Restorative Lemongrass & Cedarwood, Calming Lavender, Rosemary, Thyme & Mint, Stress diffusing Grapefruit & May Chang. Made using the finest natural ingredients, these handy 30ml tubes hydrate, pamper and nourish hands, leaving them feeling silky soft and smelling gorgeous. Pop on the hand cream after an at home manicure and feel fabulous!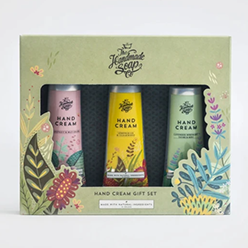 Vichy Liftactiv Peptide-C Anti-ageing Ampoules
If you want to supercharge your skincare routine there is no better place to start than with a dose of high concentration Vitamin C and Peptides to work immediately on visible lines and wrinkles. The Vichy Lift Activ Peptide-C Anti-ageing Ampoules are a concentrated daily anti-wrinkle dose that targets fine lines and wrinkles, lack of firmness and boosts skin radiance, whilst being tightly sealed in an amber, glass ampoule to ensure optimal freshness. Use under your regular serum after cleansing and toning, morning and night for 10 or 30 days to see your skin transform!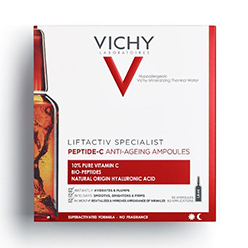 Optimise your Beauty Sleep routine
Spacemask Self Heating Eye Masks 5 Pack
Relax and unwind before sleep with the Spacemask Self Heating eye masks. These heated eye masks are perfect to ease tension, stress and strain that is so often held behind the eye area and in the forehead area. Unwrap an eye mask and relax for 20 mins any time in the day but especially before bed to ease yourself into a peaceful slumber.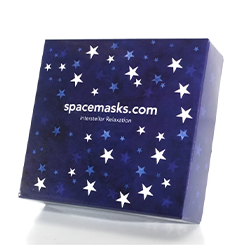 This Works Deep Pillow Spray Limited Edition 250ml
Nothing eases you off to sleep quite like engaging the sense of smell with the This Works Deep Sleep Pillow Spray. Spray on your pillow, bedclothes and even pyjamas to be surrounded by the scent of Lavender, Vetivert and Camomile to calm both mind and body.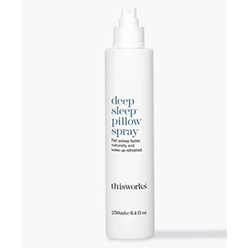 De Vielle Rechargeable Hot Water Bottle
This snuggly hot water bottle that will provide you with hours of heat. Simply plug it in for 15 minutes before you go to bed for night-long heat where you need it! No hot water involved at all so is a great idea for children or those you may be caring for. It is extremely safe and the heating is provided by an element within the bottle. It takes 15 minutes to heat up, will stay warm for up to 6 hours, all the time in the world to snuggle the soft touch material.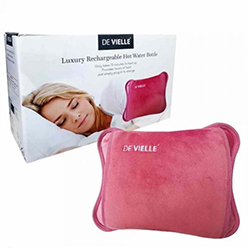 Oonagh O'Hagan
Paid Partnership with Meaghers. 
DISCOUNT CODE:
Don't forget, as I am the Brand Ambassador for Meaghers, I have an exclusive Discount Code for Meaghers. Click the link below to get the Code and to see all my favourites from Meaghers.