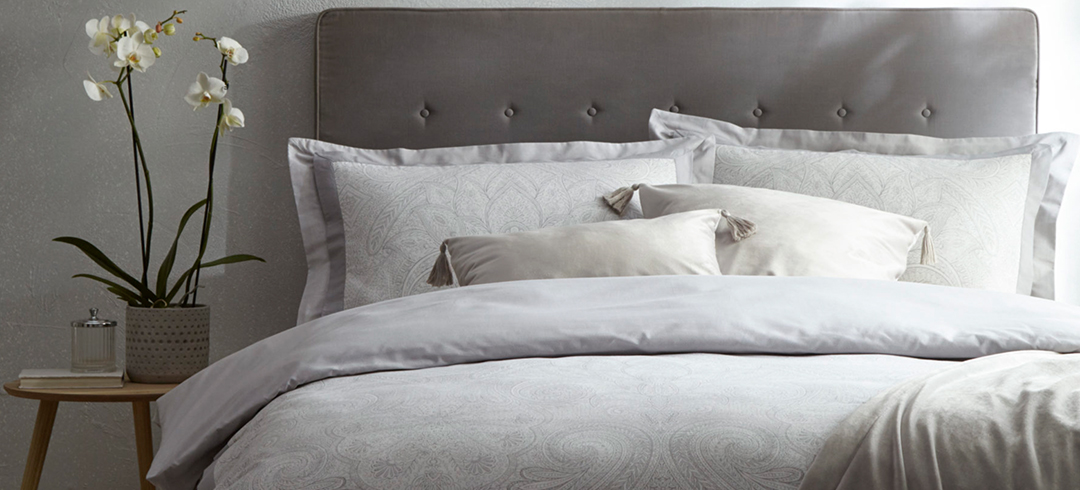 Your Best Night In – Hotel Style Sleepover in your own Home
by Amanda McDermott of McElhinneys
*Sponsored Partnership with McElhinneys
Sometimes the best part of travelling is arriving to a Hotel and falling into a plush, perfectly made bed, right? Well, if you'd like to create that 5-star feeling in your own bedroom then look no further as we present our ideal selection so you can enjoy your best night in.
'C

reate that 5-star feeling in your own bedroom…'

 
The Fine Bedding Company Four Seasons Spundown Duvet, 4.5 Tog + 9.0 Tog
Available from Single to Superking, for whatever type of bed you rest your head, the Fine Bedding Company Spundown Duvet ensures you have the best nights' sleep. This machine-washable option contains clever technology that compresses the fibres inside, allowing it to fit in your home machine, however they can recover and return to their original shape. Ideal for if you suffer allergies, or just love the feeling of a freshly washed bed! Plus, with the Four Seasons Duvet, you have a 4.5 and 9.0 Tog option so you can use it all year round for the most comfortable and restful nights' sleep.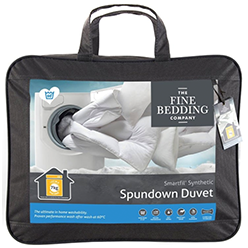 The Fine Bedding Company Four Seasons Spundown Duvet, 4.5 Tog + 9.0 Tog
Portfolio Tatton Duvet Set
Create a real sense of elegance in your home with the Portfolio Tatton Collection. Presented in this stylish grey colour, featuring a subtle floral pattern and embellishments, this beautiful range is sure to give you that Hotel feel. With a complimentary quilted runner, square and boudoir cushions, you can create a sophisticated and timeless set up for your own home.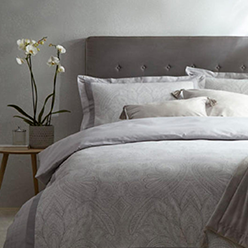 Portfolio Oak Tree Duvet Set, Silver Grey
The Fine Bedding Company Spundown Pillow
Rest your head on absolute luxury with the Fine Bedding Company Spundown Pillow. This highly breathable pillow has a 100% cotton cover which ensures a gentle feel on the skin and is suitable to those with allergy sensitivities. Plus, it is machine washable and will retain its quality after every wash, so you can freshen up as often as you like without sacrificing excellence.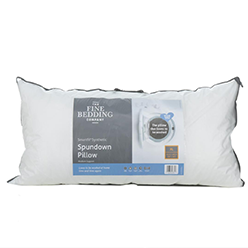 The Fine Bedding Company Spundown Pillow
So, there you have it, how you can create a hotel-style staycation feel in your own bedroom to make the most of your space and enjoy a fun and restful evening in your own home. All you have to do is employ your quarantine buddy to serve your drinks while you snuggle up for the evening!
McElhinneys Homeware
Whether you're looking for a couple of stylish additions, or a total revamp of any room in your home, look no further than McElhinneys. There is no limit to the variety of styles offered in their stunning home department, where you'll find beautiful designs, superior quality and unique pieces to really show off your style at home.
In the kitchen, add to your bakeware collection with must-have pieces from Prestige, serve up a storm with Denby cutlery and tableware, and sip on your favourite beverage with Waterford Crystal glassware. In the living room, relax on statement pieces from Mindy Browne and decorate with unique designs from Scatterbox cushions.
Create a sleep sanctuary in your bedroom with the Fine Bedding Company duvets and pillows, and decorate your space with bedding from the finest selection of suppliers. Catering for every size from Single to Superking, and to every budget, you're sure to find everything you need to snooze in style.
At McElhinneys, you'll find the best selection that Homeware has to offer, and you can avail of FREE delivery on orders over €49.
DISCOUNT
As this is a sponsored blog post, you can SAVE from 15% up to 50% off McElhinneys Home & Living products mentioned in this blog or on my website. Click the link below to get my Discount Code and to see all my favourites from McElhinneys Home & Living.
-Lisa McGowan