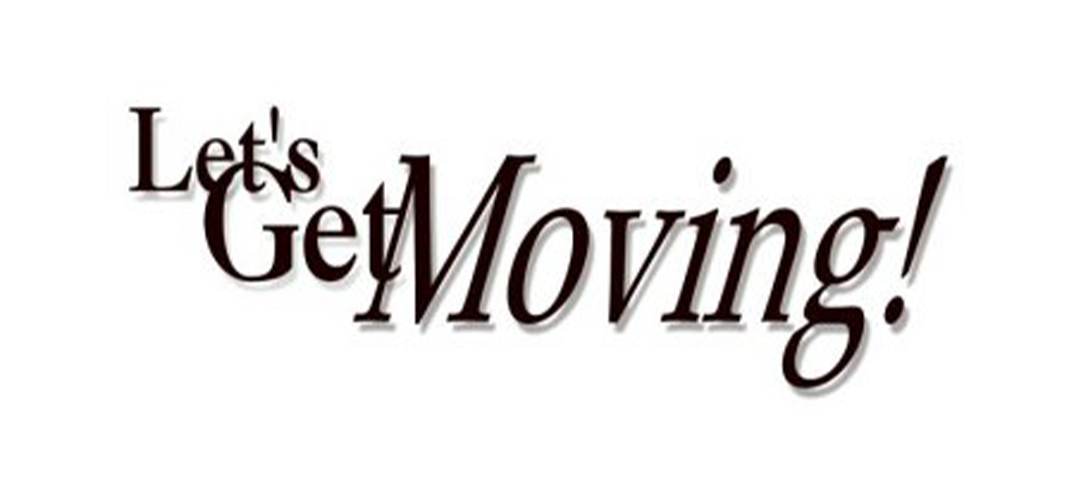 *Sponsored Partnership with Meaghers
Written by; Elaine Southern – Health and Wellness Expert here at Meaghers.
With the change in season and the brighter days approaching, it is a good time to ask yourself,  'Do I make physical activity a priority for my health and well-being?'
Below are just some of the reasons why you should!
Regular movement
May help reduce risk of disease
Helps us to maintain healthy muscles and bones
Help us to continue to be able to do everyday tasks as we get older
Improves our mood
Can be used as a way to socialise and get out and about
Improve sleep quality
Support and improve energy levels
Thankfully when it comes to movement there are lots of options and variety to choose from like, joining a gym, walking, jogging, yoga, pilates, kickboxing, swimming and other types of exercise classes and sports groups. I encourage you to check out what is available to you in your area and sign up to something that sparks interest in you. Physical activity does not have to be boring, it can be fun!
So, we know movement has amazing benefits for our health and well-being and with extra movement in our lives we may need extra support so here are my top supplement recommendations for a more active lifestyle.
Revive Active Health Food Supplement 
If you feel you are in need of a boost when you are taking part in more physical activity, look no further than Revive Active. A favourite of ours here at Meaghers for good reason. Revive Active is an easily absorbed super supplement that has been formulated to help support energy levels, immune system and heart health. It contains vitamins, minerals, amino acids and two key ingredients for heart health, coq10 and l-arginine. Simply mix a sachet with water and take first thing in the morning so you can make the most of the extra energy support throughout the day!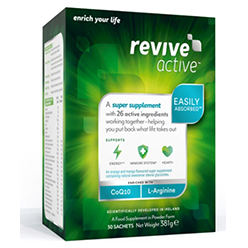 Revive Active Health Food Supplement 30 Sachets
Revive Active Joint Complex
It is important to look after our joint health especially if we are taking part in high impact sports or exercise. Revive Joint complex can help to relieve aches and pains that may be associated with joint inflammation. The complex of the following ingredients is what makes this product stand out among other joint supplements:
Marine Collagen is well absorbed and helps to support and repair cartilage
Glucosamine to help prevent further breakdown
MSM to help with joint pain and inflammation
Hyaluronic Acid to help joint lubrication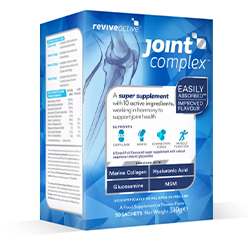 Revive Active Joint Complex
Solgar Curcumin
Another fantastic and popular product is Solgar Curcumin. People who opt for Curcumin are often people who would like a natural remedy for joint pain and for its antioxidant benefits. Curcumin is the active ingredient in Turmeric and is more bioavailable on its own.
Turmeric is a beautiful, bright yellow spice that is commonly used in cooking and it is also known for its anti-inflammatory effect on the body. Solgar Curcumin is 185 times more absorbable than regular turmeric capsules and is more effective at reducing inflammation.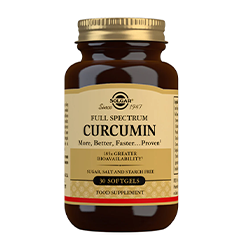 MAG 365  
This super magnesium supplement is a highly bioavailable magnesium. Magnesium plays an important role in over 300 functions in the body! Sometimes after exercise our muscles can feel sore or achy and taking this before bedtime can help relieve this along with helping to support a more restful sleep.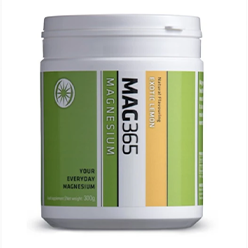 Mag365 Magnesium Supplement Exotic Lemon
BetterYou Magnesium Flakes
BetterYou Magnesium Flakes can be added to your bath to help soothe tired and aching muscles for the ultimate relaxation.
Promotes natural relaxation
Soothes aching and tired muscles
Suitable for baths and footbaths
Effective magnesium absorption
Available in small and large pouch
Fully recyclable packaging
Ideal to add to a bath after a long day or post exercise to relax and soothe muscles and also when used in the evening can add to a relaxing night-time routine to aid a more restful sleep.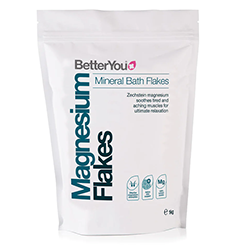 BetterYou Pure Magnesium Bath Flakes
DISCOUNT CODE:
Don't forget, as I am the Brand Ambassador for Meaghers, I have an exclusive Discount Code! Click the link below to get the Code and to see all my favourites from Meaghers.