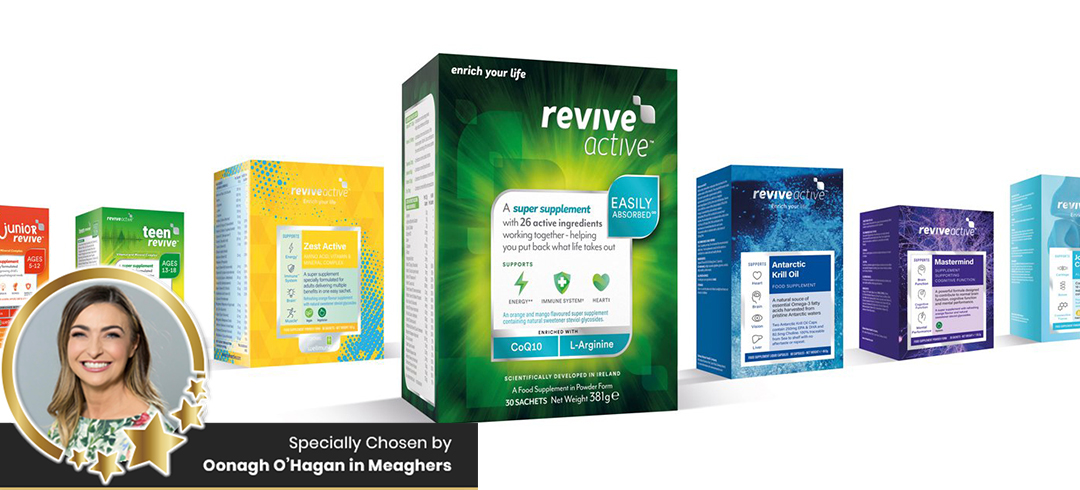 Revive Products – What's the Difference?
*Sponsored Partnership with Meaghers
Written by Oonagh O'Hagan of Meaghers
The Revive Active range is a top-quality supplement range from right here in Ireland. The
supplements contain the very best blend of ingredients and are superior to other supplements in that they can be absorbed by the body very easily.
Which Revive is Right for Me?
Revive have a number of products that help support a healthy lifestyle. Among their range they have two incredible multi-vitamin products. Revive Active and Revive Zest. Both Revive Active and Revive zest contain a blend of B Vitamins, antioxidants and minerals essential to support a healthy and active lifestyle, they both act as a support for the immune system and help with energy support. But which is right for you?
Revive Active
Contains the superstar ingredient Co Enzyme Q10, this ingredient promotes energy, supports a healthy heart and is key for those taking cholesterol lowering medication. It also helps support active aging as co-enzyme q 10 is depleted with age and is essential for energy. Revive Active is also I excellent at supporting immunity and helping with extreme fatigue.
Multivitamins for the entire Family
Revive Junior
Revive Active have a support supplement for the entire family. Reive junior is a fantastic support for children from 4years-12years. Just like us adults for some children it can be difficult to ensure they are getting all that their growing bodies need from their diets. Junior revive contains a blend of prebiotics and probiotics, 4 fruit and vegetable powders, 18 vitamins & minerals and Wellmune the beta glucan that offers support to the immune system. Revive junior is a tasteless powder that can be added to water, juice or even yogurt in the morning time with breakfast, it is also really easy to fit it into their morning routine Monday-Friday.
Revive Teen
Revive teen is a perfect multivitamin product for the thriving teen, it will help support their cognitive function and brain health as well as their immunity levels and energy levels. The 26 hand-selected active ingredients in Teen Revive have been blended with 18 vitamins and minerals, prebiotics and probiotics and Wellmune. This tasteless powder stick can be added to juice or water or yogurt every weekday morning to fit into their busy routines.
Add on Supplements
Along with your multivitamin product you may wish to include one of the other incredible products from revive. If you want to enhance your skin health, your cognitive function or even your joint health Revive has the product for you. Each of these options are safe to take alongside the Revive active and the revive active zest
Revive Active Joint Complex
Revive Beauty Complex
Revive Beauty complex is an all-in-one beauty supplement for the skin hair and nails. Beauty complex contains Marine collagen that helps plump the skin, hyaluronic acid that helps with hydration levels and phytoceramides that mimic the natural lipid barrier of the skin. Beauty Complex also contains powerful ingredients Vitamins C, E copper and Selenium which contributes to the protection of cells from oxidative stress, the normal function of the immune system and maintenance of healthy skin, nails and hair. Beauty complex is safe to take alongside either the Revive Active or Revive Zest Multivitamin product.
Revive Mastermind
If you are looking to give your brain function a boost the revive mastermind is the product for you. This super impressive formula contains Omega 3 DHA which contributes to the maintenance of normal brain function, Vitamin B5 contributes to normal mental performance and antioxidants that help protect the important nerve cells in the brain from oxidative stress. This product can help give a working professional or student improved focus and mental agility and can also help support memory and cognitive function in the active aging with support from vital nutrients needed for optimum brain health.
We are here to help!
So however your body has responded throughout these incredibly stressful few weeks and months there are certainly products that can support your body at this time. If you are feeling the impacts of this pandemic on your sleep, your anxiety or energy  levels or if you are noticing the effects on your skin or hair myself and my team of pharmacists are here to help you through these challenging times and all you need to do is to reach out and ask for the help that you might need.
Contact us on our helpline by phone or email. 
Oonagh x
Oonagh O'Hagan
Paid Partnership with Meaghers. 
DISCOUNT CODE:
Don't forget, as I am the Brand Ambassador for Meaghers, I have an exclusive Discount Code! Click the link below to get the Code and to see all my favourites from Meaghers.