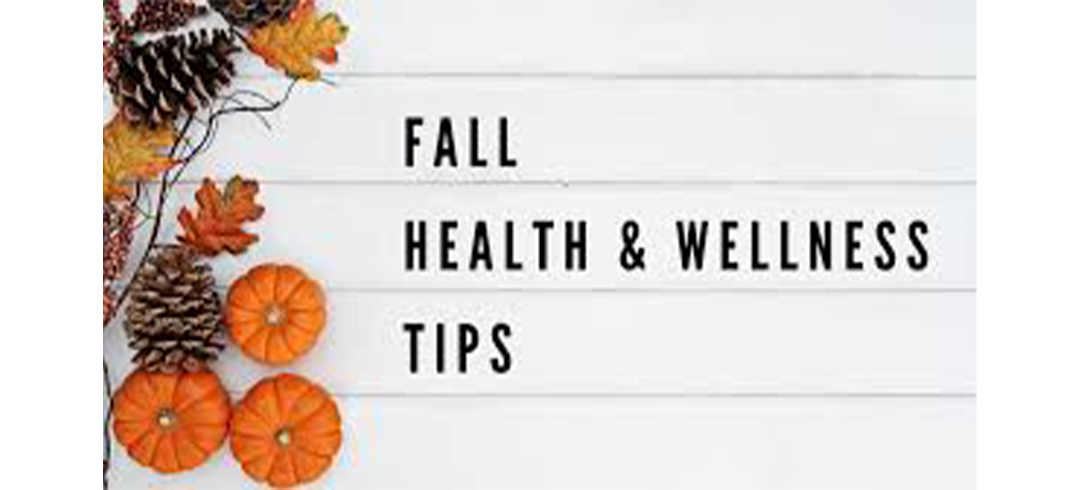 Supporting Your Body Through a Change of Season
*Sponsored Partnership with Meaghers
It's long been said in medical circles that 'your health is wealth' and we're strong proponents of that viewpoint here at Meaghers.
This statement rings true because it can prove hugely challenging to go about your daily undertakings when your health is compromised, as many people with an existing health condition can attest to. A healthy immune system is critical in ensuring your body functions optimally. To support your immune system, you need to regularly evaluate your daily dietary needs and adapt to change when deficiencies or enhancement opportunities present themselves. This is especially true when approaching change in seasons.
Nutrition
A balanced, vitamin-rich diet is the first step in boosting your immune system. In addition, you reap many health benefits by being keen on a healthy, active lifestyle. How well you balance your food intake will determine how the body responds to health challenges once they arise.
A complete meal plan in your day should contain different types of beneficial vitamins, minerals, good fats, proteins and carbohydrates. Its important to fuel your body with a variety of foods, to eat the rainbow and avoid restrictive diets. Try and include as many immune boosting vitamins as you can on a daily basis.
Vitamin C
Vitamin C is vital in ensuring that your body is protected  from the presence of harmful pathogens in the system. A powerful antioxidant, Vitamin C helps guard your body against external attacks from the free radicals. The concentration of these radicals in the body can lead to respiratory infections such as the common colds and flu.
By increasing your blood antioxidant capacity, your body is guarded against inflammation. In addition, the anti-inflammatory feature of Vitamin C helps your body curb your immune system threats that could lead to contracting infectious diseases from viruses.
The C vitamin is found naturally in citrus fruits such as oranges and in berries such as elderberry, which has a high concentration of the C vitamin, standing at 52 Mg per cup. Other excellent sources of Vitamin C include Potatoes, Broccoli, Sweet potatoes, Peppers and Kiwis.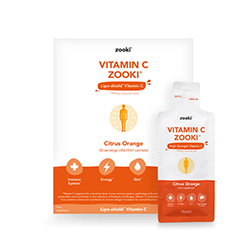 YourZooki Liposomal Vitamin C 30 (1000mg) Sachets
Movement
Having a routine that includes regular exercise to meet your physical abilities is very beneficial to your immune health. Exercise slows down the release of stress hormones. Some stress increases the chance of illness therefor lower stress hormones may protect against illness. Regular movement can boost your heart health helping and help with blood pressure.
Vitamin B12
Vitamin B12 contributes to the reduction of tiredness and fatigue. It's important for a functioning immune system and supports the normal functioning of the nervous system. With the darker evening closing, many of us will need a little help feeling less fatigued.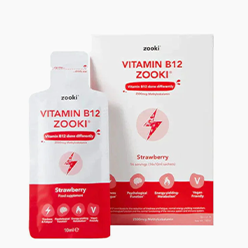 Multi Vitamin
if your diet is lacking a lot of fruit and vegetables for whatever reason then we would always recommend supplementing your diet with a multivitamin and here in Meaghers we love the Revive range of vitamins and minerals as their products have a wide range of vitamins and minerals and are very bioavailable as they are in a sachet form and are easily absorbed in the body.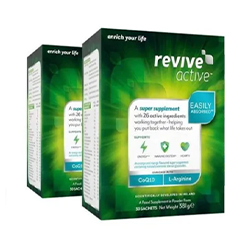 Revive Active Health Food Supplement 30 Sachets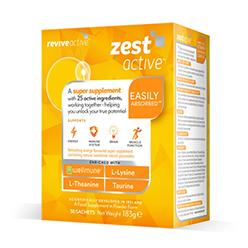 Revive Active Zest Active 30 Sachets
Another firm favourite brand at Meaghers is the Solgar range of Vitamins and Minerals and one in particular we often recommend at this time is Solgar® Beta Glucans & Elderberry Immune Complex. It  is a unique blend of immune supportive nutrients. This unique formula combines seven key active ingredients including a pure Elderberry 83:1 extract, equivalent to 4 grams of dried elderberry fruit. It has been created to help keep you healthy during those times when you may need additional immune support, such as winter months or periods of increased exercise or stress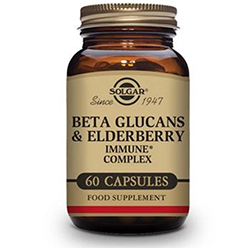 Solgar Beta Glucans & Elderberry Immune Complex 60 Capsules
A healthy gut can help contribute to a strong immune system, the key to which is a healthy diet including fibre, which organisms in the colon feed off. The key to a healthy gut is having a healthy microbiome. Your microbiome is a massive ecosystem made of up trillions of organisms such as bacteria, yeasts, fungi & viruses that live in your digestive tract. Collectively these weigh up to 2 kg – that's heavier than the average human brain !
All these bacteria mean your gut is almost as diverse and dense as the Amazon rainforest.  Scientists are increasingly treating the gut as its own organ, recognising how vital these bacteria are as they break down food and toxins, make vitamins and interact with our immune system. Although your microbiome is influenced by factors from birth, your actions today can have a big impact on this ecosystem. We need to look after our microbiome to maintain a balance, ensuring a rich biodiversity of organisms, which can positively impact your health and wellbeing.
Diet, the environment, stress and medicines such as antibiotics can all disrupt this balance, undermining the diversity of your gut microbiome .Your microbiome lives in harmony with you. Take care of it, and it'll take care of you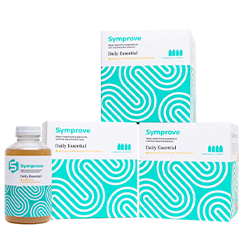 Symprove 12-Week Programme ( 8 + 4 free)
Hopefully these tips have been helpful and if you ever need support or advice in relation to your wellness and health, don't forget that the Meaghers team are on hand to help.
DISCOUNT CODE:
Don't forget, as I am the Brand Ambassador for Meaghers, I have an exclusive Discount Code! Click the link below to get the Code and to see all my favourites from Meaghers.