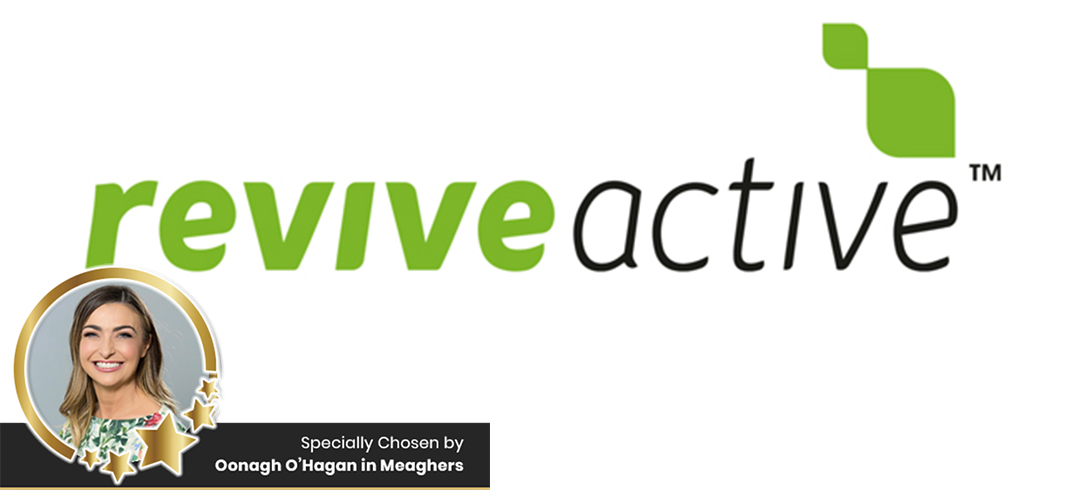 The Irish Super Supplement Brand Revive
*Sponsored Partnership with Meaghers
Written by Oonagh O'Hagan of Meaghers
We are huge fans of the Revive Active range here in Meaghers. The brand was founded by Daithí O'Connor in 2011, now with a team of doctors, scientists, production specialists and expert nutritionists they have grown from a brand with one product and 4 team members to a business exporting throughout the world to over 48 different countries. A real example of an amazing Irish business with an amazing product backed by science!
Meno Active
The newest addition to the Revive product range is Meno Active, a super supplement formulated through in-depth research by specialists in various fields of nutrition and science, for women during and after menopause. Unlike the other products from the range it is a dual action product where you take one capsule and one sachet daily.
This powerful combination helps support:
 Hormonal Activity
 The Nervous system
 Energy
 Brain function
Each capsule contains 3 plant extracts:
Ashwagandha, Sage and Green Tea. Each
sachet contains 27 active ingredients including Vitamin B6 which contributes to the regulation of hormonal activity, Omega 3 DHA which contributes to the maintenance of normal brain function, Biotin, Magnesium, Thiamine and Iodine which contribute to the normal functioning of the nervous system and finally Niacin and Vitamin C which contribute to normal energy-yielding metabolism. Each sachet of Meno Active contains 350mg of Omega 3 DHA. Docosahexaenoic Acid (DHA) is a structural component of every cell of the body. It contributes to the maintenance of normal brain function. It is an essential fatty acid which cannot be made by the body efficiently and must be taken into the body through a varied diet or supplementation.
Meno Active can be taken alongside Revive Active's range of multivitamins Revive Active and Revive Active Zest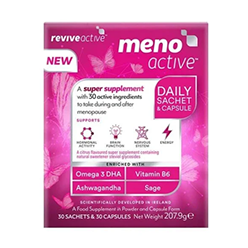 Revive Active
The original product from this Irish company is the Revive Active Food Supplement, it is a comprehensive multi-vitamin/multi-mineral suitable from age 18 upwards. What makes this product so great for boosting energy is the 150mg of Co-enzyme Q10, which is found naturally in your cells and helps your body create energy. Unfortunately from our mid 20s onwards, the levels of Co Q10 in our body starts to decrease, which is why we may not feel as energetic as we once did! This product boosts your Co-enzyme Q10 reserves which can really boost your energy. It is also an excellent support for our heart health as it contains the amino acids L-arginine & L-citrulline which help to open the blood vessels. These amino acids are particularly important to look after our cardiovascular health from mid 30's onwards.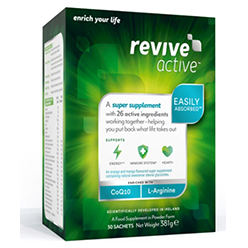 Revive Active Zest
Revive Active Zest Active is also a comprehensive multi-vitamin/multi-mineral suitable from age 18 upwards. However It's recommended for ages 18-35, due to the fact that it doesn't contain the cardiovascular ingredients, it can be used by adults of any age. However, unlike Revive Active Food Supplement, Zest Active contains Wellmune, which helps support a healthy immune system, Choline, to support mental performance and memory and L-Theanine, an amino acid found in green tea which has been studied for its effect to support mental relaxation. So if these are your main concerns maybe zest would be a better choice for you.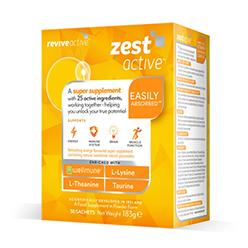 Revive Beauty Complex
As well as the multivitamin supplements Revive has also created a complimentary product for skin, hair and nails Revive Beauty Complex can be safely taken in conjunction with Revive Active Food Supplement or Zest Active. This product contains 7000mg of Collagen for skin firmness & elasticity, Hyaluronic Acid for skin moisture & reduction of fine lines and Phytoceramides which can penetrate the four layers in our skin, boosting our natural collagen production which can lead to skin plumpness.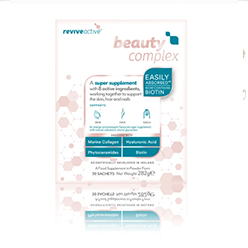 Revive Joint Complex
For those concerned with Joint health Revive Joint Complex is a super supplement containing Peptan marine collagen, hyaluronic acid, glucosamine, MSM, and blended with key vitamins and minerals for enhanced joint health. This super supplement contains Vitamin C which contributes to normal collagen formation for the normal function of cartilage, Vitamin K2 which contributes to the maintenance of normal bones. Vitamin D3 contributes to the maintenance of normal bones and normal muscle function and copper which contributes to the maintenance of normal connective tissues.
This is suitable for athletes and for anyone who suffers from joint stiffness or with a joint injury.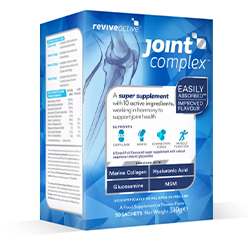 We are here to help!
 To view the entire range of Revive Products visit www.meagherspharmacy.ie and if you have any questions around which supplement may be suitable for you get in contact with one of our pharmacists at help@meagherspharmacy.ie
Oonagh O'Hagan
Paid Partnership with Meaghers. 
DISCOUNT CODE:
Don't forget, as I am the Brand Ambassador for Meaghers, I have an exclusive Discount Code! Click the link below to get the Code and to see all my favourites from Meaghers.