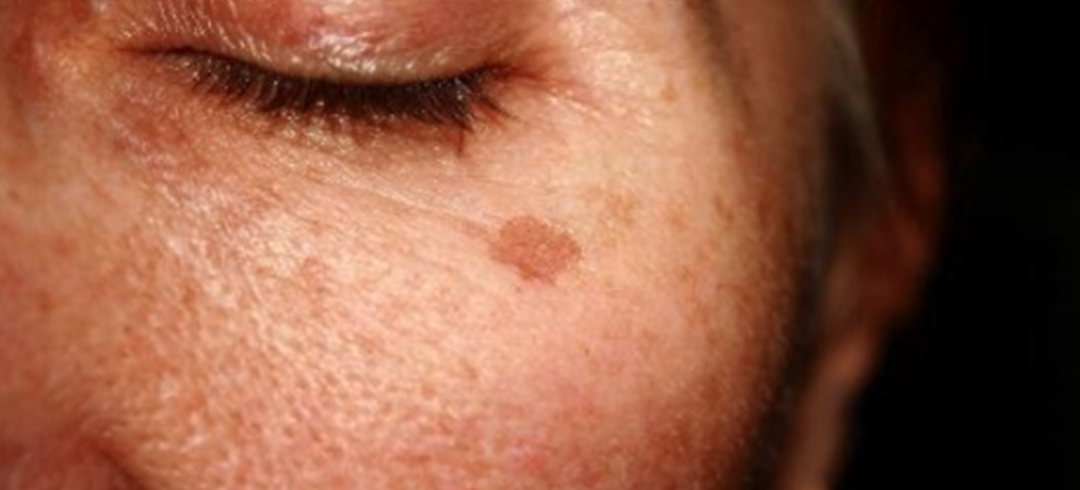 How to Treat Pigmentation
*Sponsored Partnership with Meaghers
Written by Joanne O'Hagan of Meaghers
As we get older we all notice differences in our skin… As we age, our skin can change in different ways; you may notice a change in skin tone, visible lines and wrinkles or a difference in pigment on certain areas of the skin. A difference in pigment can appear like darkened patches or spots on the skin giving the skin an overall uneven tone. This is called hyperpigmentation.
'our melanocytes can become damaged over time and it can be difficult to remedy….'
It can be caused by external factors like UV damage, free radical damage from pollution or toxins we ingest, hormonal changes or even scarring from an inflammation condition we may have suffered like acne or psoriasis. The skin has produced excess melanin, this is what gives the skin its colour but the cells that make melanin, our melanocytes can become damaged over time and it can be difficult to remedy.
Hyperpigmentation can be treated in a number of ways but the most important step to introduce is to include a broad spectrum SPF daily- everyday! Consistency with your SPF will protect against further UV damage and pigment formation but will also give any lightening treatments the best chance of working.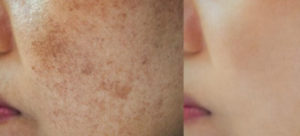 At Meaghers, we love the Anthelios range from La Roche Posay, the ultra light fluid will not add any shine to the skin and will melt into the skin flawlessly. When treating pigmentation we recommend some ingredients that may sensitise the skin to the sun so while treating pigmentation it is very important to top up the UV protection throughout the day. The Anthelios Invisible Mist can be applied over makeup and is perfect for the handbag or desk.
Treating the Hyperpigmentation
When tackling the hyperpigmentation we need to target the multiple pathways of discolouration. I like to recommend a triple action approach.  
Exfoliate the damaged skin cells away using ingredients like Retinol to speed up the natural exfoliation process of the skin and glycolic acid to unglue these damaged cells from the surface of the skin will allow for new fresher skin cells to be unveiled.

Brightening the skin- Powerful skin brighteners such as Vitamin C, Niacinamide, a potent antioxidant found in Turmeric, Kojic acid and NeoGlucosamine will help brighten the skin. That will reveal healthy glowing skin that looks even and smooth.

Support the formation of new healthy skin cells by supplementing Vitamin A and antioxidants, both help with brightening the skin, evening out skin tone and achieving healthy glowing skin.
1. NeoStrata Enlighten Ultra Brightening Cleanser
This gentle non-drying cleanser removes make-up, dirt and oil, while brightening and refreshing dull, lacklustre skin. This pearlescent, creamy cleanser develops plush foam to deep clean and reveal naturally radiant skin and is powered by 6% NeoGlucosamine, known to exfoliate skins surface, targeting dark spots that can cause skin to appear uneven and dull. It is suitable for Normal Skin, Dry Skin and Oily Skin.
2. Vichy's Lift Active Ampoules
Vichy's Lift Active Ampoules are supercharged with vitamin C and bio-peptides. They come in the ampoules to protect the potent formula and deliver the high concentration of ingredients to help with the signs of ageing at the correct dose. Use half an ampoule in the morning and at night after cleansing and see your skin brighten.
Brighten and protect skin from premature aging with the NeoStrata Enlighten Dark Spot Corrector.
This brightening gel helps to even skin tone by using a blend of chemical exfoliators. Alpha hydroxy acids (AHAs) and polyhydroxy acids (PHAs) work together to remove dead skin cells, diminishing dark spots in the process. This exfoliation is then bolstered by Vitamin C and kojic acid, both of which brighten the complexion.
The PHAs in this corrector provide an additional benefit by acting as antioxidant chelators. These antioxidants capture trace metals before they can cause damage to the skin, helping prevent some of the premature aging they can cause. It's a way of building a defense against future dark spots.
Benefits:
Corrects dark spots with AHA/PHA blend.

Vitamin C and kojic acid aid in evening out skin tone.

Builds protection against uneven skin tone through antioxidant chelators.
Contains NeoGlucosamine, a gentle exfoliator known to help fade the appearance of existing skin discolourations. This formula includes 4% Niacinamide (Vitamin B3) and a blend of Vitamin C, B-Resorcinol and Liquorice Extract to help promote a brighter and more even skin tone. Apply this lightweight serum after cleansing morning and night.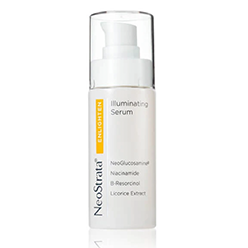 This intensive, multi-action brightening treatment contains highly active ingredients including NeoGlucosamine, Retinol (0.1%) and stabilised Vitamin C to target pigment at its source, enhancing skin resurfacing and diminishing the appearance of discolourations.
Use this as your night cream and apply after your serum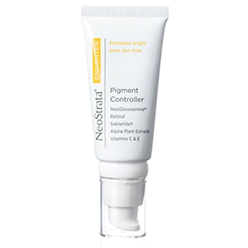 This mask should be used weekly to carry out a chemical exfoliation of the skin. The Glycolic acid will work to dead skin cells to renew the complexion. While the lactic acid will hydrate and smooth the skin to combat the signs of ageing. Use weekly as part of your skincare routine.
La Roche-Posay Pigmentclar Eyes targets dullness in the eye zone, using a brightening complex combined with caffeine. Invigorates the look of the eye area and helps the eye contour look smoother as well as fading brown and blue tones from the eye area. Apply morning and night to the eye area.
8. Advanced Nutrition Programme Skin Complete
This powerful skin duo supplement works from the inside out to help combat pigmentation and other signs of ageing. Skin Vit A+ helps to normalise the activity of tyrosinase, an enzyme that plays a role in the production of melanin while the powerful antioxidant capsule contains a cocktail of vitamins that help with boosting collagen production while supporting the growth of new healthy skin cells and lighten dark spots.
Please note that some of the ingredients and treatments mentioned here are not suitable for use during pregnancy or when breastfeeding. Always seek advice from our team in Meaghers if you are unsure about the routine that's right for you.
Oonagh O'Hagan
Paid Partnership with Meaghers. 
DISCOUNT CODE:
Don't forget, as I am the Brand Ambassador for Meaghers, I have an exclusive Discount Code where you can SAVE 15% off all R.R.P. on their site. Click the link below to get the Code and to see all my favourites from Meaghers.