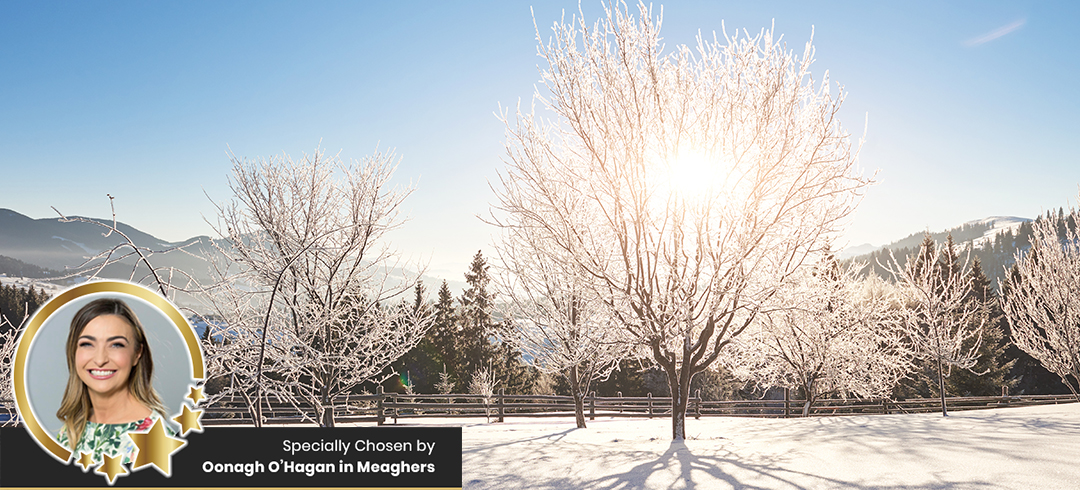 Our Favourite Wellness Supplements
*Sponsored Partnership with Meaghers
Written by Oonagh O'Hagan of Meaghers
There is a chill in the air and the nights are drawing in. This year, more so than any other, it is so important to create a winter self-care routine to nurture your body and mind.
Wrap up warm and take a brisk walk in the cold to get your body moving and blood pumping.
In winter it can be difficult to maintain your self-care routine as it's colder and less inviting outside, sometimes we just want to hibernate! Even just a little bit of time for you can make a big difference to your physical and mental health. Wrap up warm and take a brisk walk in the cold to get your body moving and blood pumping. Ensure you are doing what you can to ensure your diet is balanced and your body is being nourished by good foods. 
Ensuring your body has all it needs to keep you strong and healthy, physically and emotionally helps you handle the daily demands of life. Supplementing some essential vitamins and minerals can ensure you are well for winter.
TOP WINTER PICKS FROM MEAGHERS
Revive Active
If you feel your system depleted by the darker evenings and change in weather. My top supplement to try is Revive Active. Our top energy boosting recommendation this super supplement is formulated with 26 active ingredients including the powerhouse nutrient CoQ10, it is the perfect daily boost for energy, supporting your  immune system and a healthy heart. Take just one sachet a day to put back in what life has taken out.
Revive Zest
This year more than any other year it is important to take care of our immune system, Revive Zest is a specially formulated multivitamin with 25 active ingredients specially designed to support a busy lifestyle, enhancing your energy, the brain and the immune system. Zest Active is unique for its blend of vitamins, minerals and amino acids such as Taurine and L-Lysine along with Wellmune, a beta glucan to prime the immune system for attack. Zest is aimed at a younger adult and gives you sustained energy throughout the day, mental performance, recovery from exercise and immune support without any stimulants or caffeine.
The Winter time is a great opportunity to take extra care of your skin, hair and nails. Revive beauty does that from the inside out. With a powerful blend of collagen, hyaluronic acid (HLA), phytoceramides and antioxidants Beauty Complex is scientifically formulated to nourish skin, hair, nails, teeth and gums while helping to fight the signs of ageing. Beauty Complex is designed by experts to help combat the effects of declining collagen, ceramides and hyaluronic acid in the body.
The type of collagen used in Beauty Complex is Peptan® Collagen Peptides. These peptides are a pure and bioactive protein, derived from a 100% natural source, containing more than 97% protein and are the same as the collagen found in our skin and bones. Their hydrolysed form makes them more easily digestible and their use has been documented in recently published scientific studies papers.
Your Zooki
Ensuring our immune systems are in top condition is so important at this time of year. A Vitamin C deficiency may result in a reduced ability to fight off certain pathogens whilst a higher supply can enhance several elements of your immune system. 
Adding a Vitamin C supplement to your diet is most effective in cases of physical strain or insufficient intake of Vitamin C from the diet. Our favourite form of Vitamin C is in a liposomal form the unique way it is formulated Vitamin C to easily pass through the membranes of our cells, accelerating the uptake of Vitamin C from the blood before it can be excreted by the body.
Cleanmarine MenoMin is an amazing supplement for women going through or approaching peri-menopause or menopause. At this time of year our energy levels, mood and sleep can be especially affected by the darker evenings and colder days. Menomin is formulated specifically to give extra nutritional support for peri-menopausal and menopausal women.
It is rich in Omega-3 with Phospholipids, Vitamins B1, B2, B6, B12 and D3, as well as Rosemary Extract, Soy Isoflavones, Folate and Biotin. With Vitamin B6 to help regulate hormonal activity, biotin to help maintain normal mucous membranes, as well as Vitamin B2 to reduce tiredness and fatigue and Vitamin D to help maintain healthy normal bones and support the normal function of the immune system.
Symprove
Caring for your gut heath is key for overall wellbeing. With over 70% of our immune system residing in our gut, a healthy gut can help contribute to a strong immune system, the key to which a healthy diet and fibre, which organisms in the colon feed off. The key to a healthy gut is having a healthy microbiome. I always say, if you look after your microbiome, it will look after you!
If you are concerned with the balance of bacteria in your gut, my first line recommendation is always the probiotic Symprove.  It is a water-based formulation that contains four unique strains of live activated bacteria. This unique formulation Symprove will not trigger digestion, unlike other capsule and tablet forms of probiotics, meaning the bacteria are not killed by the acid in your stomach and they will arrive in your gut where they can thrive and re-balance your microbiome much more quickly than other capsule and tablet formulations.
We always recommend the 12 week program of Symprove but do remember when you purchase 8 weeks of Symprove you get an additional 4 weeks free of charge and you can also purchase the 8 weeks together or in two separate 4 week instalments.
Oonagh O'Hagan
Paid Partnership with Meaghers. 
DISCOUNT CODE:
Don't forget, as I am the Brand Ambassador for Meaghers, I have an exclusive Discount Code! Click the link below to get the Code and to see all my favourites from Meaghers.