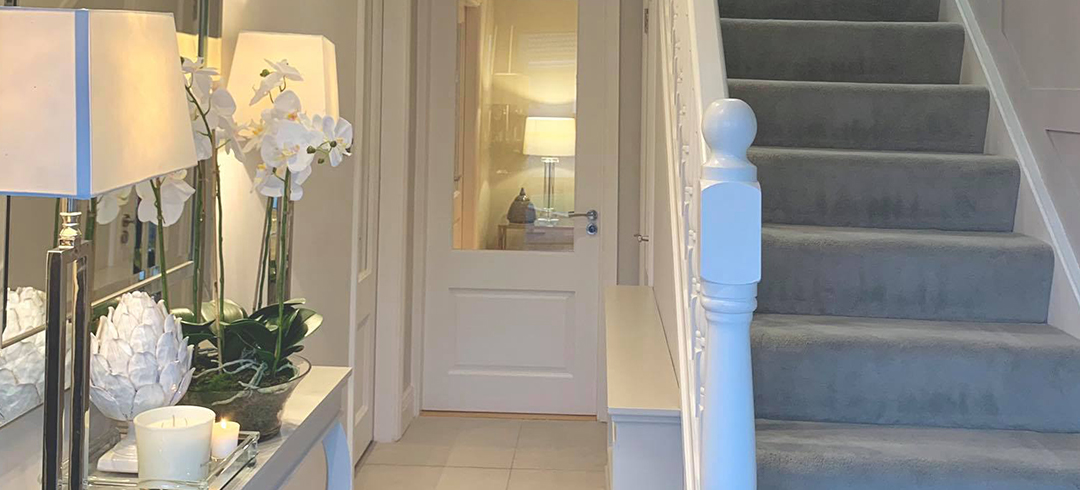 Last year, I had the pleasure of working with Lisa on her home in Tullamore, Co. Offaly. Lisa's home is super organised… In her home, everything has a place and everything is in its place.
We agreed that the look for her home would be fresh, feminine, classic and styled with no unnecessary clutter. A place to feel secure and a space to be proud of. Homely but stylish… A neutral, clean palette was chosen to create a feeling of relaxation…
A neutral, clean palette was chosen to create a feeling of relaxation…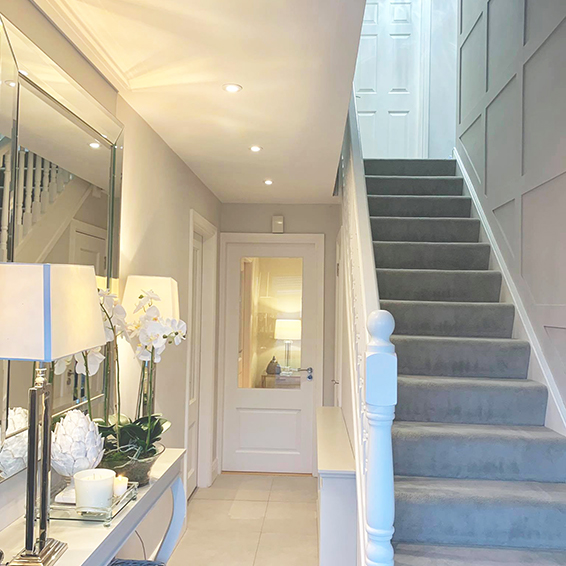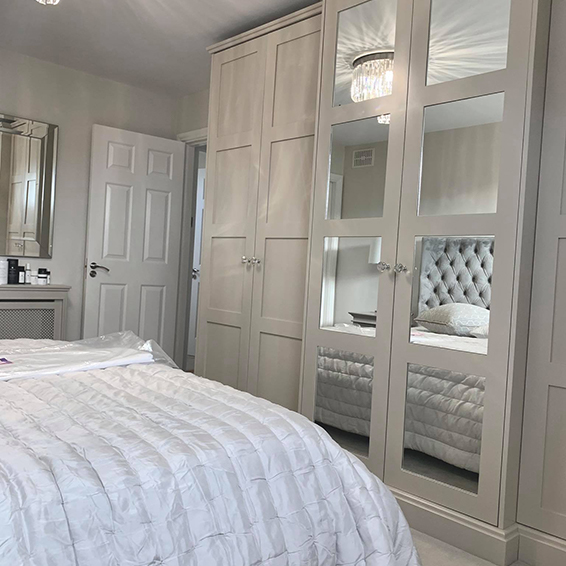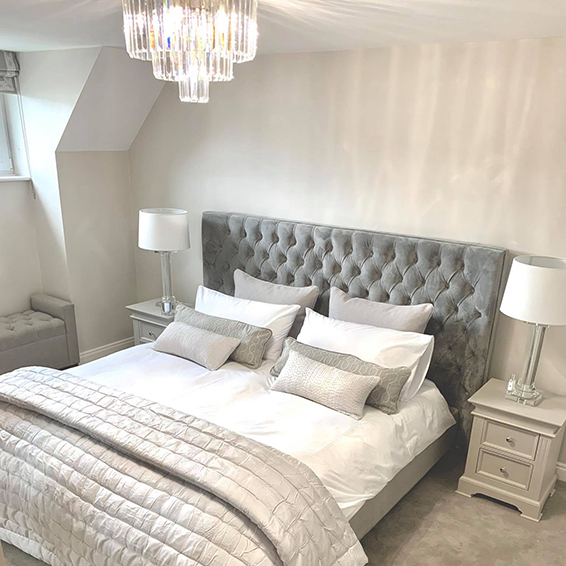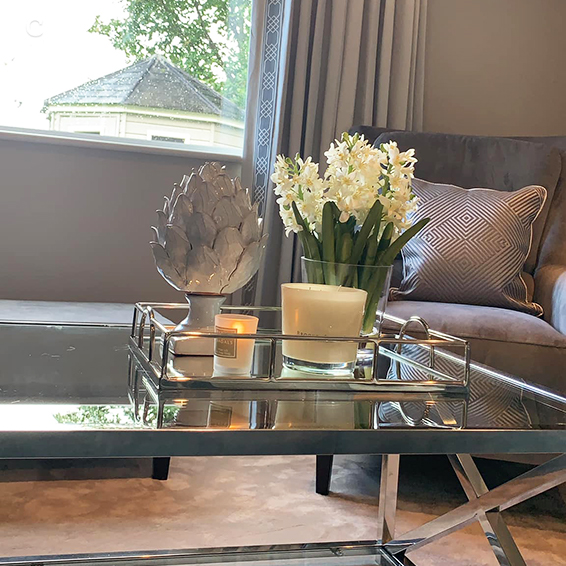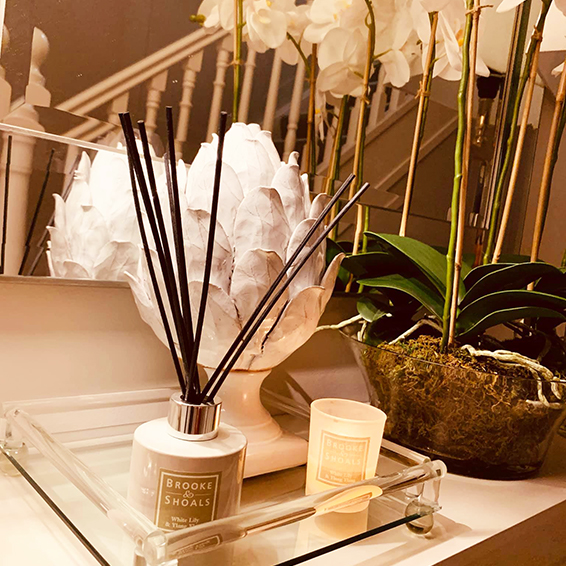 Although Lisa's home was beautiful and lots of work had already been done prior to my arrival, Lisa simply wasn't in love with her home. She felt it was missing the finishing touches that reflect who she is.
We're both insomniacs, so we set off on our mission… with lots of phone conversations throughout the night.
Lisa visited the Shearwater Hotel & Spa in Ballinasloe for one of her events and fell in love with the newly refurbished decor that I had the pleasure of choosing for the dynamic Comer Group. The Group GM, Jerry Power, always indulged me and my styling obsession with finishing touches, which are key to complete a project.
Lisa gravitated towards the floral arrangements and accessories… Before leaving, she had a shopping list ready!
In the weeks that followed, our chats would turn in to long conversations with FaceTime Videos of her home and we drove everyone crazy in both our homes… Soon they couldn't listen to all our constant chatting about accessories and colour.
The first item that was discussed were the lights for Lisa's Hall, Bedroom & Dressing Room. We decided chandeliers would be used to reflect light and create femininity… We had many funny stories along the way. One of them was such a close shave: I had chosen a light for the Bridal Suite in the Shearwater Hotel, and Lisa decided that she would like the same light… I got my one picked up and installed and then Lisa received a call to say that her light was no longer available!! At that stage mine was already up so she couldn't have it (phew!). In fairness she was the first person to sleep in the Bridal Suite (where my chandelier ended up) and we got her another three beauties which are now installed in her Hall, Bedroom and Dressing Room.
Shopping
Now, close your ears: we spent five hours picking fabrics for cushions one Friday evening in Ventura! Yes, correct! Five hours for the living room cushions! We spent a lot of time matching fabric and trims; looking at fabric in different lights. Lisa has an amazing eye… She knows what she likes and what she doesn't. What I love about Lisa is that she trusts in you and listens to what you think… Our styles in interiors are very similar and we were always in agreement.
What we chose was a satin-type fabric in a metallic light colour that had a slight sheen but looks beautiful against the velvet of Lisa's green velvet couch by Finline. For the front cushion we chose a beautiful geometric pattern fabric which I got made with self piping.
We chose my personal favourite for the cushions on the single chair in the Living Room… It is a heavily textured fabric. I love the raised pattern and it sits beautifully on her chair.
We replaced the orange Roman blinds with full-length curtains in a cream light coloured fabric (to reflect light) with a slight sheen (to add elegance to the room). We added a 70mm wide braid by Houles along the edges. Such elegance like the lady herself.
There's one part of this journey that I can honestly tell you I can still hear Lisa laughing at me over… I've claustrophobia and when we went to leave Ventura at 5pm, we couldn't get out. I started getting panicky and Lisa thought I was joking. Alas no, I was not. I start banging on the window trying to get out. All was settled when one of the girls come around the corner of the shop and guided us to another door just around the corner. I cried… Lisa laughed! All ended well 🙂
Kitchen / Dining Area: 
We changed the blinds to a softer embroidered linen-like fabric in a blue/grey by none other than Jaclyn Smith a former Charlie's Angel! I wonder which angel lisa would be 😉
Chairs are currently on order and are a grey / green with linen type fabric. They are stunning!
We accessorised throughout and are still continuing to add and layer. Homes are always a work-in-progress.
We've added a lot of floral accents throughout the house. A combination of different sized florals in the Hall / Living Room / Dining Area and that has made a huge impact. They're fantastic as they need little or no care… They vary in style, shape and height. Faux florals are initially expensive for good silk arrangements but they last a lifetime and are so lifelike in appearance.
Top Tip: We added mirrors to the back of the bookcase which really ups the glamour factor… and they reflect light, which is always a plus.
Bedroom
Bedroom is so lovely! Such a lovely space… It just needed a little dash of prettiness…
We added a Cremins Moiselle blind in a delicate fabric and pale trim from Fabricut. These additions are so important as it adds detail without distraction.
Cushions: we opted for a delicate embroidery in a pale blue and grey with stone coloured thread. We used two large back cushions to ground the pattern. To compliment the headboard (in my favourite velvet) and at the front we chose little decorative cushions to match the luxurious Satin throw with stitch details from the White Company. This created a beautiful palette! It's hard to tell from the photos but it has a subtle colour and is not overly feminine.
We chose the same crystal chandelier (again, super beautiful) that I sourced for the Dressing Room and Hall… This created continuity between the areas and the light provides such a lovely ambience.
I accessorised the chandelier with two Crystal lamps on the lockers. You just cannot get sick of glass… It absorbs colour from surrounding areas and always looks classic.
Dressing room
We made a huge change by getting rid of the desk and making it a more practical, bespoke space that works for Lisa. Kevin Kelly created a new dressing table with spaces for storage to the side, drawers to the front, crystal handles… Details were discussed intensely (as you can imagine… No room for error!)
This aspect of the project was very important… When getting bespoke joinery you have to take your time. It's so important to discuss every single detail. Yes it is a process; and yes it is tedious; but it's easier to change on paper than in real life. Visualise sitting in your space and imagine what you need. Get it right and you'll have a fabulous piece of furniture that will last forever.
Floors
Who can forget the floors? In the end, we went with a beautiful new product by Matt Britton and we had such a fun day choosing it.
It's so important to see products in your home and on your floor. It's tempting to say yes to floors in shops when there is such a wide variety to choose from. I know it can be overwhelming, but it is so important to remember that light changes the colours of your floor, so I recommend that you take samples home and look at them in your space.
I just love real wood. It is a lifetime investment… I love the look and feel of it and it always brings so much warmth in to a home.
Tray Styling
A tray helps you organise your coffee table or whatever area such as an island or side-table… keeping it neater and more styled. This is the place for remotes and any other items that are usually lying around. Trays are the basis for layering, and with so many options out there, it's so easy to mix it up regularly, i.e.
Books
Stack two, three or four books on top of each other, graduating in size. This as an opportunity to start gathering and collecting some beautiful books. If you don't want to go to that expense, simply buy some books out of a charity shop and paint them matching your colour scheme.
Floral
Faux floral is less work. Faux succulents are excellent too. Using floral in your home styling is an effective way to add colour and there are so many options out there i.e. styles and pots.
Candles
Who doesn't love a nice candle? The glow and the ambience a candle creates is beautiful. Style them in pretty jars, clear jars, mercury jars… Most of these can be recycled and used for tea lights or candlesticks for different heights. Add in some texture i.e. wood or rattan as it adds depth.
Sculptures
I like to add in something like an artichoke, coral or textured objects. The pleasure of using them on a tray is that it looks super styled and compact… and when you need the space for other uses, you can just lift the tray away. Another beautiful part about using the tray is that you can change it up seasonally. It's a very inexpensive way of changing the look of your room.
Summary
We've had so much fun along the way. My greatest compliment is Lisa saying "I just love my home thank you… " To Lisa, I say thank you for allowing me into your home and for bringing me on this journey.
One project left to finish is Daragh's Den and the nice part of that is that it's Daragh's choice. He also knows what he likes, so having listened to him, we chose a black and oak combination for his joinery. This is a stark contrast to the neutral palette of the rest of the house but it reflects him and looks so contemporary.
This will be another story to tell… Stay tuned!
Wishing Lisa every good wish on her new website.
Lots of love,
Adeline Molloy
About Adeline:
Hi guys, I'm so excited to be featured here… Thank you Lisa For having me!
Married to David with three kids: Katie, Daniel, Lily; two dogs: Lulu and Rosie and one cat: Lucky Boots. 
Instagram now feels like my fourth child! My life has always been creative. My Mum & Dad were creative in a hard-working way. When I was 10, I got to design a logo for vans for my parents' company. Needless to say, the pay wasn't great. 😉
I wanted to go to NCAD but that didn't happen. I trained as a beautician in Bronwyn Conroy and then I went on to train in Floristry and several courses in London which I loved.
Kilkea Castle Golf Club: I got to design the two conservatory restaurants and a lodge. From then, I began to do showhouses getting featured in two magazines.
Once my kids came along, I just remained doing bits for friends until about three years ago. The wonderful Linda (Blanchfield) brought me to do a presentation to the GM in Kilkenny Hibernian Hotel… I secured the job to do Harpers Bar and from there to the full refurbishment of Hillgrove Hotel & Spa in Monaghan and back to Kilkenny for projects in Butler House. 
Since then I've had pleasure working for Jerry Power, Group GM of the dynamic Comer Group… on the Shearwater Hotel Ballinasloe, Ellison Castlebar, Palmerstown Estate Golf Club and Manor , Glasshaus Tallaght and Number 1 Ballsbridge. I feel proud to put my stamp on these projects amongst many special private clients.
I am enjoying meeting great people and creating wonderful spaces… 
Looking forward to bringing you on this journey with me!